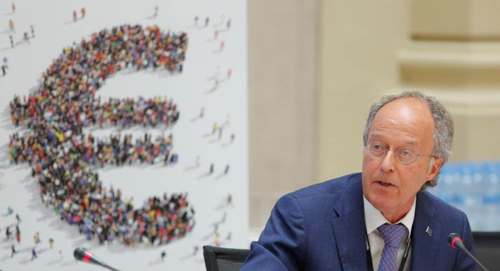 Professor René Smits is Professor of the Law of the Economic and Monetary Union (EMU) at the University of Amsterdam, and a consultant on EMU law, EU banking regulation and financial sector supervision and competition law. In September 2013, Professor Smits was appointed as an assessor in the Competition College of the Belgian Competition Authority. In September 2014, the ECB's Governing Council appointed him as an alternate member of the Administrative Board of Review, a review panel for the ECB's supervisory decisions.
For many years, Professor Smits worked for the central bank and the competition authority of the Netherlands. He worked for De Nederlandsche Bank N.V. (DNB, the Dutch central bank) in Amsterdam for 24 years and was its general counsel (1989-2001). In this position, Professor Smits was responsible for legal advice on central-bank related subjects, with a focus on EC banking directives, the IMF and the preparations for economic and monetary union, as well as on in-house corporate affairs. He was also a member of the Legal Committee of the European System of Central Banks.
From late 2001 until early 2014, Professor Smits worked at the Netherlands Competition Authority (Nederlandse Mededingingautoriteit, or NMa) in The Hague, first as director of the authority's legal department (2001-2004), then as Chief Legal Counsel (2004-2013), giving legal advice to the NMa's Board and its departments and finally as strategic legal counsel at the Authority Consumers & Markets (Autoriteit Consument & Markt, or ACM), the successor to NMa (2013-2014).
Professor Smits has held a Chair at the University of Amsterdam since 2000 and is a Visiting Professorial Fellow at the Centre for Commercial Law Studies at Queen Mary, University of London.
Professor Smits is a member of the Committee on International Monetary Law of the International Law Association (Mocomila), of the editorial board of Legal Issues of Economic Integration and of the Scientific Committee of Revista de Concorrência e Regulaçao, a law review sponsored by the Autoridade da Concorrência (Portuguese Competition Authority) and the Instituto de Direito Económico, Financeiro e Fiscal da Faculdade de Direito de Lisboa.
He is the author of numerous publications on EU monetary law and banking regulation and supervision and the institutional arrangements for central banking. His doctoral thesis The European Central Bank - Institutional Aspects was published by Kluwer Law International, in 1997 and reprinted in 2000.
René Smits (1954) studied sociology and law at the Vrije Universiteit (Free University) in Amsterdam. He is married with two children and five grandchildren.